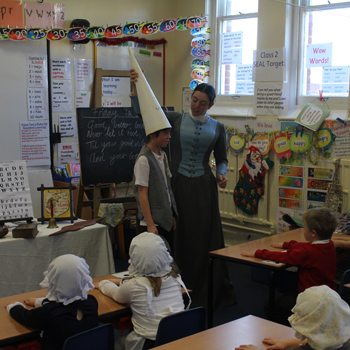 Victorian School teacher for Hands on the Past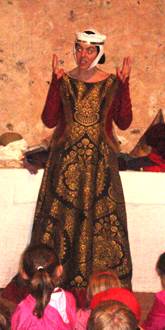 Lady de Vere for Hands on the Past at Hedingham Castle.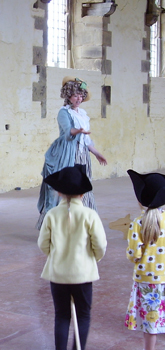 Georgian dressage for Griffin Historical at Bolsover Castle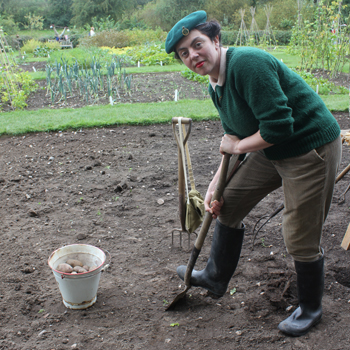 Land Girl for Hands on the Past at Baddesley Clinton.
I have worked with school groups for 15 years originally with theatre-in-education companies, providing message based theatre into primary and secondary schools.
Working with groups visiting historic sites or by taking history into schools I have a great deal of experience with pupils at Keystage 1, 2 & 3 and recently helped implement sessions for A-level students.
Hands on the Past is a site specific historical education company that I have been a member of for over 11 years. Hosting events at sites such as Baddesley Clinton, Oxburgh Hall and Hedingham Castle the company uses the setting to bring historical events to life. They also provide curriculum tailored packages in schools. I design and implement teaching sessions for them throughout the full range of historical periods they cover.
Education sessions and characters that I can offer your school or museum include:-
Drama Sessions based on:
English Civil War
The Spanish Armada
Shakespeare's writings
Henry VIII and his wives
Medieval and Tudor dancing

Characters:

Victorian School mistress
Civil War lady defending her home (with musket)
Tudor lady looking at everyday Tudor life
Elizabethan catholic lady
A Suffragette or suffragist
Medieval woman looking at the differences between rich and poor
A land girl helping to Dig for Victory during WWII


This is by no means an exhaustive list I am happy to tailor a presentation just for you so please get in touch.

I am keen to extend my involvement with adults and children with disabilities and would love to hear from any groups or organisations that maybe interested in my work. I have knowledge of Makaton and am at Level 2 with BSL